StairAide Blocks
StairAide is a set of small, furniture quality, half-height blocks which are easily added to your existing staircase, doubling the effective number of steps with minimal alteration.
StairAide blocks are installed on one side of your existing staircase, occupying nine inches of each existing step's width. The blocks are designed for simple in-home installation, easily accommodating many different types of stairs and stairway configurations.
Each step measures: 9″ x 9″ x 4″ (Width; Depth; Height).
StairAide does not require any motors, switches, batteries, or wiring of any kind and can be installed or removed with minimal impact to the existing staircase.
StairAide is both durable, tested to withstand 1,100 lb of load, and attractive, featuring an oak finish to compliment your home decor.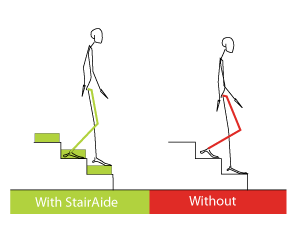 StairAide dramatically reduces the effort of stair climbing. If you can climb and descend your existing staircase, but find it difficult or painful (or find yourself thinking twice before going up or down stairs) then StairAide can help!